Magnetic Transporters > Motorization: Motor/Driver/PS Packages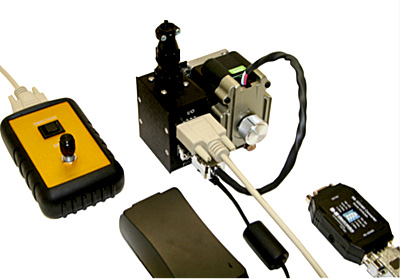 Motor/Driver/Power Supply Packages
Motorization adds convenience and precise control of motion using a Model MAMDI Motor/Driver/Power Supply Package. The MAMDI includes a NEMA 23 stepper motor with integrated controller, a remote jog box, cables, an RS232/485 converter and a 24Vdc power supply. Very compact in size, the controller and all connections are packaged next to the motor so no additional mounting hardware is required.
The integrated motor/controller of the MAMDI is programmable via its RS485 port and offers motor control of up to 51,200 microsteps per revolution. It also includes four I/O's for use with limit switches or to communicate with PLC's, etc., and one analog input. Each motor package (kit) is pre-programmed to operate via a jog box. You can easily change speed variables or replace this program to meet your application requirements. To facilitate this, program examples including the as-shipped jog program are documented along with software and connection instructions.
The MAMDI is offered with motor sizes of 90, 144 or 239 oz-in holding torque. Jog box speed control as well as a 1000 count/rev quadrature encoder are available as optional items.
Compact and cost-effective, the MAMDI can be used for a wide range of stepping motor applications. These motor systems can be coupled with Transfer Engineering magnetic transporters to perform linear and/or rotary motions. Motor driven mechanisms can assist an operator to perform repetitious motions as well as those requiring precise reproducibility. Motors can be used to perform continuous rotation or to add stability to vertically mounted applications. Long or inaccessible transfers can be operated remotely.