Magnetic Transporters > Precision Magnetic Manipulators: MASLR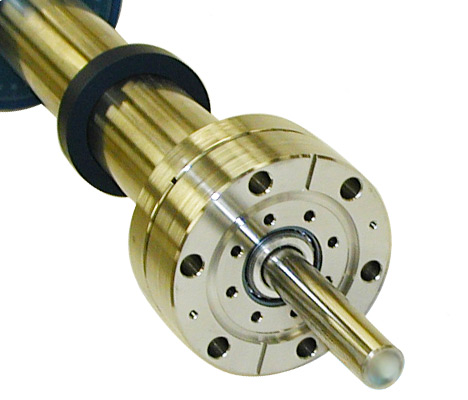 PMM-Lite, Precision Magnetic Manipulator with Linear and Rotary Motion
The PMM-Lite™, Model MASLR, is a single-shaft precision magnetic manipulator that is ideal for simple transfer requiring linear and rotary motion. The PMM-Lite is less expensive but comparable to the high performance Models DBLRP and DBLRM with respect to linear force, tactile feedback and accurate sample manipulation. These transporters are UHV compatible with only metal parts exposed to vacuum and are bakeable to 250°C.
The PMM-Lite offers very competitive linear force and torque to that of other conventional manipulators. It has the same solid "feel" of the high performance UHV Transfer Precision Magnetic Manipulators. The magnet carriage of the Model MASLR glides along the outer tube on polymeric bushings (outside of vacuum) providing a slight amount of stiction.
All units are manufactured to customer specified travel lengths and are easily customized for unique applications. PMMs can be operated manually or combined with motorized drive assemblies.
SPECIFICATIONS AND DESCRIPTION
MODEL
MASLR, PMM-Lite
Material
Flange, outer tube and square shaft
304ss
Actuator Housing
Anodized Aluminum
Performance
Vacuum Range
1x10-11 Torr
Linear Decoupling
13 lbs.
Rotary Torque
8 in-lbs*
Rotary Compliance
4 degrees/in-lb*
Mounting
2.75" CF
Specifications subject to change without notice.
DIAGRAM OF TYPICAL PMM-Lite, Model MASLR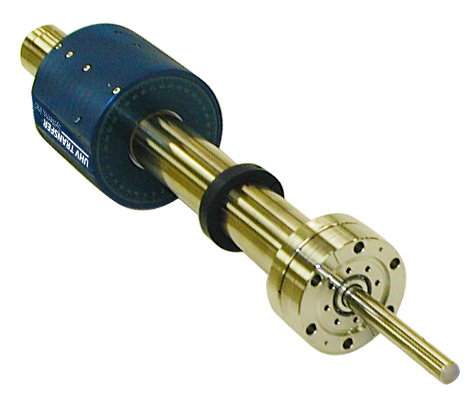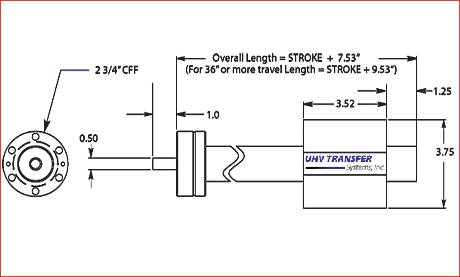 CUSTOMIZED MAGNETIC MANIPULATORS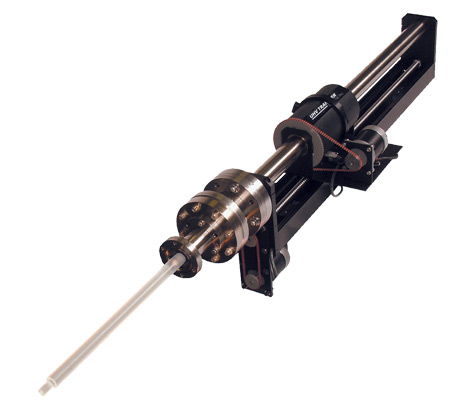 Precision Magnetic Manipulators can be customized to meet a wide range of configurations. Internal shafts can be machined with threads, threaded holes, flats or slots. Shafts can be constructed of different materials such as the quartz shaft shown for use in a furnace. Optional items such as bakeable magnets and configurations with triple the de-coupling force are just a few examples. Call us to discuss your requirements.