Magnetic Transporters > UHV Heating Stages: Models BPBPM and BPBPF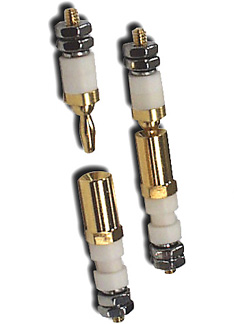 Models BPBPM and BPBPF, Banana Plugs
Models BPBPM and BPBPF, Banana Plugs are available for use where reliable electrical connections under ultra-high vacuum conditions are required. Manufactured from BeCu and 304ss, they are gold coated for enhanced electrical performance and reliability and include ceramic insulators. The possibility of zinc outgassing from the brass used in traditional connectors in the vacuum chamber has been completely eliminated. The ceramic insulators provided attach the male plug firmly and the female socket loosely to allow self-alignment.
A wide range of applications include resistive heating, direct intrinsic heating and e-beam setups; sample biasing; power-up of devices within vacuum systems or for heating; current measurements, such as Faraday cups; measuring sample temperature with a thermocouple or to evaporate materials.
Reliable UHV electrical connections can be repeatedly engaged and disengaged.
SPECIFICATIONS AND DESCRIPTION
MODEL
BPBPM, BPBPF
Material
Au, BeCu, 304ss and ceramic
Vacuum Range
10 x 10-11 Torr
Engagement force
.5 to .75 pounds max per connector
Electrical Rating
15kV maximum
15 Amperes per connector
Dimensions
See drawing
Specifications subject to change without notice.
DIAGRAM OF TYPICAL Models BPBPM and BPBPF, Banana Plugs