In-Vacuum Accessories - MAOLS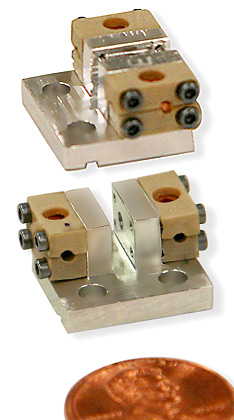 UHV Compatible Optical Limit Switch
Confirm Positioning Under Ultra High Vacuum
The Model MAOLS is available for use as a "HOME" or "position confirmed" optical limit switch based on proven Honeywell LED and optical transistor devices. Similar to the widely used Omron SX series photomicrosensors, but fabricated from ultra-high vacuum (UHV) compatible materials and hermetically sealed components, these limit switches are turned on/off by a flag interrupting a narrow beam which provides a very reliable, non-mechanical repeatable switch. The signal conditioning PC board on the MAOLS will convert signals from the sensor. The signal is ready for interfacing to your PLC or other process control instrumentation. The MAOLS will operate in temperature ranges from -55°C to 125°C.
Applications include use on linear stages, rotational stages, or any other device operating under UHV conditions requiring a switch to confirm positioning. Feedthroughs and wiring kits are available.
SPECIFICATIONS AND DESCRIPTION
MODEL
MAOLS
Material
Au, BeCu, 304ss and ceramic
Vacuum Range
1x10-11 Torr
Electrical rating
NPN Silicon Phototransistor
.75 mW max. power dissipation
.15μsec response time
Dimensions
15kV maximum
15 Amperes per connector
Dimensions
See drawing
Specifications subject to change without notice.
DIAGRAM OF TYPICAL MODEL MAOLS UHV